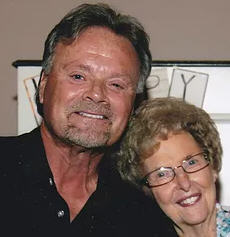 "Please title this picture 'One Satisfied Patient!'" ~Joyce U.
Dr. Williams has treated my husband and I for about 25 years now. I have problems with bulging discs in my low back from various car accidents and from lifting people from when I was a CNA. My low back was so bad when I first started seeing Dr. Williams that I couldn't even lift myself up in bed to scoot over. I also had pain and numbness (sciatica) down my right leg. Dr. Williams adjusted me and started me on the decompression machine. I feel fantastic now and have no more pain and numbness. Dr. Williams treated our youngest son as a baby for reflux. Both of our boys are teenagers now, and they still go to Dr. Williams as needed. He is one of the most CARING men I have ever met, and I highly recommend him! ~Karen F.
My son Cody's first trip to Dr. Williams was when he was seven months old. He had chronic digestive issues beyond colic; lots of reflux and he always seemed tense and uneasy when eating. He had approximately seven adjustments over a three week period and has eaten like a horse ever since! You could tell he enjoyed the adjustments and did not feel distressed at all! ~Dawn F
I had to be talked into seeing a chiropractor by a friend who promised that Dr. Williams was the absolute best. I am glad I listened and made an appointment! My migraines are a lot less frequent. When I feel a migraine coming on, I can call the office and they'll get me right in. Dr. Williams does an adjustment and I don't have the migraine! The staff is compassionate and caring. I can't say enough good things about Williams Chiropractic. ~Jennifer M
I had acute pain in my back for 20 years. It became worse–and sometimes intolerable–from time to time, but it never went away. I visited other chiropractors, doctors, massage therapists, and underwent acupuncture. No relief. On my first visit to Dr. Williams, he showed his depth of knowledge and experience. He assessed me, asked a few questions, and was able to realize my issue. With one adjustment, he gave me the relief I'd been seeking for 20 years. My activities occasionally cause this pain to return, and I am quick to return to Dr. Williams' care. ~Tracy G.
The testimonial form is to be used by our patients who want to share their experience with our services. Please provide your full name and email address so that we can verify you are our patient. We will not publish your last name with your testimonial.
*By submitting a testimonial below, I grant you the right and permission to publicly disclose my testimonial on this website, Facebook or other forum. I understand that my last name will not be used.*